Vinayaka Mission Transcript: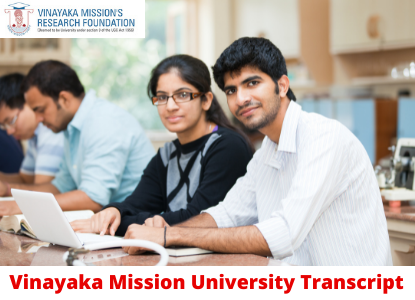 Vinayaka Mission research foundation, Deemed to be a university located in Salem, Tamil nadu. It's been one of the oldest and most favorite colleges in and around Salem for more than 39 years of excellence.
Vinayaka mission campus is of multi-diversity culture. which is composed with many inner and inter state students from various parts of India. As well as NRI's. 
They're offering wide range of courses and with world class facilities.
Candidates from vinayaka mission can get the transcripts for their higher studies abroad or for immigration purposes with the help of the tn transcripts.
Vinayaka mission transcript
can be attained with few documents such as degree certificate, consolidated certificate, Requisition form based on the institution such as WES/IQAS/ICES/CES. Some may also be in
 need of an Academic transcript for their higher studies abroad.
We will take care of your profile from the documents collection, applying for the  transcript and upto courier it to the respected organization(such as WES/CES/IQAS/CES) or Individual  address or to the colleges at abroad.
can avail the transcripts with us, the entire process will be in a transparent manner.
How to get the transcript from vinayaka mission institution :
Do reach us with the above mentioned documents or else we will guide you.