Kumaran, is a former student of DOTE University. He has several years of experience in IT field and is looking to immigrate to Canada. For Canada Immigration he needs some documents to prove his education standards which is equal or relevant to Canada education standards. In that case he has to apply for a DOTE University Transcript. Given his busy day-to-day schedule he is not in a position to travel to DOTE University for getting the documents. For anyone caught in this situation there is no choice but to either drop the immigration plan altogether or to keep it pending to build the profile for Canada express entry.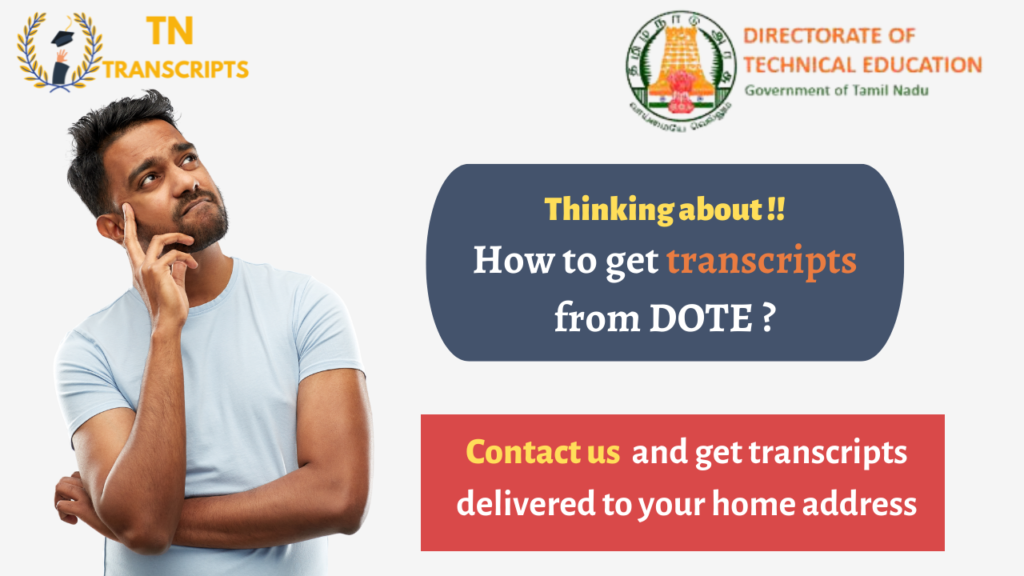 Transcript Service Partner:
Without wasting any time, Kumaran explained his situation to a friend who had already finished the process. His friend suggested a documentation service providers list who will be able to get Transcript from Universities within a couple of days and solve your Issue with ease. After checking with a few more friends, he found out that TN Transcript is the most preferred choice. With wide ranging experience in the field and several tie- ups with various universities.
Documents required for DOTE University Transcript:
He contacted TN Transcript and they asked Kumaran for the necessary documents needed for Transcripts such as
Clear scanned copy of the Degree certificate/Provisional certificate
Filled and Signed WES Academic record form with WES reference number
Clear scanned copy of the Consolidated/Individual mark sheets
Transcript requisition letter from the candidate with signature.
Time Duration to get Transcript from DOTE University:
Usually Transcript from DOTE University will take minimum 30 days but with the help of TN Transcript. Kumaran got his DOTE University Transcript within 15 days. Thanks to the help provided by the experienced Transcript Service Provider Visa Assistance team at TN Transcript. Kumaran soon migrated to the country of his dreams Canada along with family.
Conclusion:
Finally Kumaran has Completed the Transcript work with the help of TN Transcript. If you are someone who is in a similar situation such as Kumaran, struggling to collect transcript from a DOTE University, then don't worry. All that you need to do is to consult our team of experts, who will be on the job getting your Transcript from Dote University. Our Visa Assistance team will make your profile live in Canada express entry pool and migrate to Canada with survival job assistance.